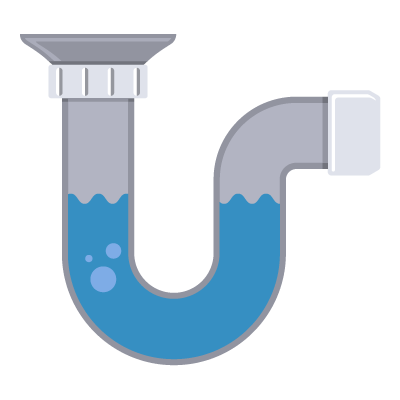 BLOCKED DRAIN CLEANING SERVICES
A blocked drain can result in a huge amount of damage to your home or business. The signs of a blocked drain can be hard to spot because buildup and clogs can happen over time. But when there's a backup, the damage can be a costly and potentially devastating experience. We are just a phone call away with 24-hour emergency plumbing and drain cleaning services, fixing even the most stressful of situations. We answer the call when you're faced with basement drain backups, kitchen sink backups, sewage backups, and clogged drain pipe inspections, cleaning and maintenance.
Call us for emergencies, inspections and maintenance for the following drain issues:
Call us for emergencies, inspections and maintenance for the following drain issues:

Blocked Bathroom Drains: Bathroom drains tend to collect hair, soap buildup, toothpaste, grime, toilet paper, and other bathroom products that over time, create major plumbing issues. Drain backup in the bathroom can be a serious problem, call us for an inspection or in case of emergency.

Blocked Kitchen Drains: The kitchen sink pipe collects soaps, fats, grease, and food particles that all have the potential to create a build up. You may notice the sink draining slowly, or creating an odor – call us before you experience an unwanted blockage.

Blocked Utility Room Drains: BAsements have the potential to flood if there's a backup in your utility room. The main causes are usually dirt, debris, improper renovation cleanup, leading to poor drainage and risk of backup.

Blocked Sewer Drains: In your home or business, the sewer drain transports gray and black water to the main sewage lines. If there are any blockages, the damage from a sewage backup is usually extreme and costly.
Caldwell Plumbing has 7 trucks on the road and 12 employees that are available 24 hours a day, 7 days a week, and every day of the year, covering the GTA and Durham Region. Find out why we are your local "go to" drain cleaning service.