The frenzy over toilet paper has become an unexpected focal point in the coronavirus pandemic. As the news of toilet paper shortages alarmed the world, many cautious homeowners have stocked up on their supplies, just in case. There's usually no harm in having so much toilet paper in your household inventory. The only problem may be that you use it too generously and your toilet ends up becoming clogged with paper.
A clogged toilet with paper is a more serious plumbing problem than it might sound. In fact, toilet paper is one of the most common causes of clogged toilets. With more people quarantined at home due to the coronavirus pandemic, your toilets are probably being used at a much higher frequency rate. This increases the potential for toilet blockages to occur.
The toilet is where we do our daily business, and the thought of not being able to use it can be very daunting. Many people dread the prospect of unblocking a clogged toilet with paper, which is why you should contact a plumber for help. In addition, you can learn how to unblock a toilet with this following guide:
How do toilets get clogged?
Before you try to unblock a clogged toilet, it's always a good idea to understand why these blockages occur. Most commonly, your toilet becomes clogged when you apply too much toilet paper at once. This is a simple matter of overcapacity. Even toilets with strong, robust flush systems will get backed up if you overexert it with too much paper.
The best way to prevent a clogged toilet with paper is to be considerate with the usage. Remind your kids and the rest of the family to not waste too much toilet paper. Just because you bought a lot of toilet paper during your coronavirus shopping doesn't mean you have to use it all at once! Ultimately, putting less paper down the toilet means there will be a lower risk of blockages.
Best solutions to unblock a toilet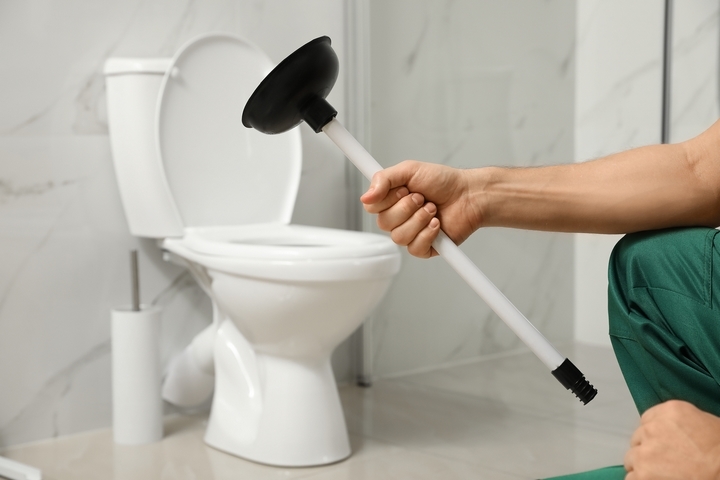 There are plenty of equipment that will help you to unblock the toilet. While you don't need to have all of these items, you may encounter varying degrees of success with each different tool. Pick from the following toilet unblocking solutions and see which one works best for you.
Plunger: A plunger is a solid choice for unblocking any clogged toilet. Pick a plunger with a long sturdy handle, making it easier for you to handle.
Plumber's snake: With a dexterous hand, you can use the plumber's snake to manipulate the clogged toilet paper and break up the blockage.
Bucket: Find a bucket (or a container) that you can use to easily pour water into the toilet.
Safety precautions for unblocking toilets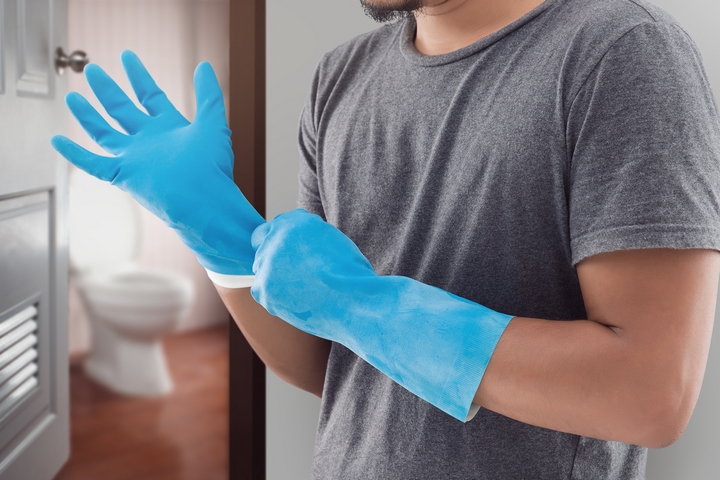 Unblocking a clogged toilet with paper can be a messy endeavour, filled with germs and bacteria. At a time when personal hygiene is so important, you need to protect yourself from unsanitary conditions. Gather the following items that will keep yourself and your bathroom clean.
Latex gloves: Latex is an ideal material to protect your hands against bacteria. If you need to reach into the toilet and fish around, you'll want a pair of latex gloves to avoid touching anything unpleasant.
Old clothes: When unblocking the toilet, there's a possibility that you might get splashed on. Be sure to wear old clothes that you don't mind getting ruined.
Plastic garbage bags: A small plastic bag should suffice. You'll scoop the toilet paper into this garbage bag, so keep it at a nearby location.
Use your hands to remove the paper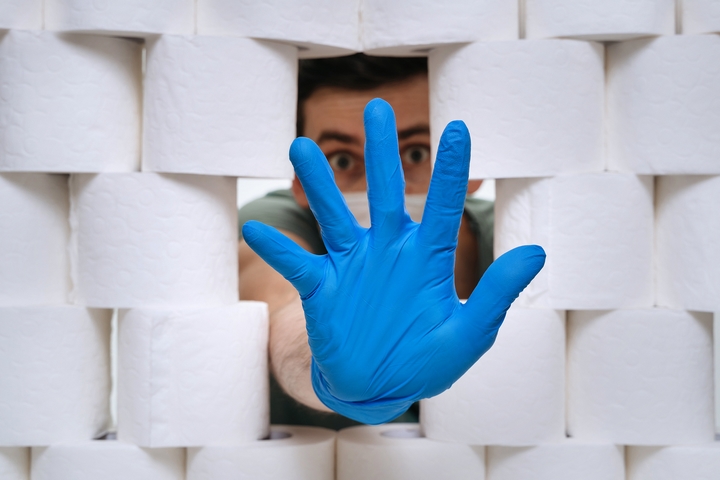 In order to unblock a clogged toilet, you need to first investigate the severity of the problem. If there's a very large amount of paper stuck inside the toilet, you may want to clear the clog manually. Put on your latex gloves and scoop out the clumps of toilet paper. Repeat several times until you can't grab any more toilet paper. Keep a plastic garbage bag nearby, which you'll use to dispose the toilet paper waste.
Once you've scooped out all the accessible toilet paper, check to see how the water is running. If it seems to be flowing well, you may have fixed the blockage. If not, you may want to call a plumbing repair service for assistance.
Unblock the toilet with a plunger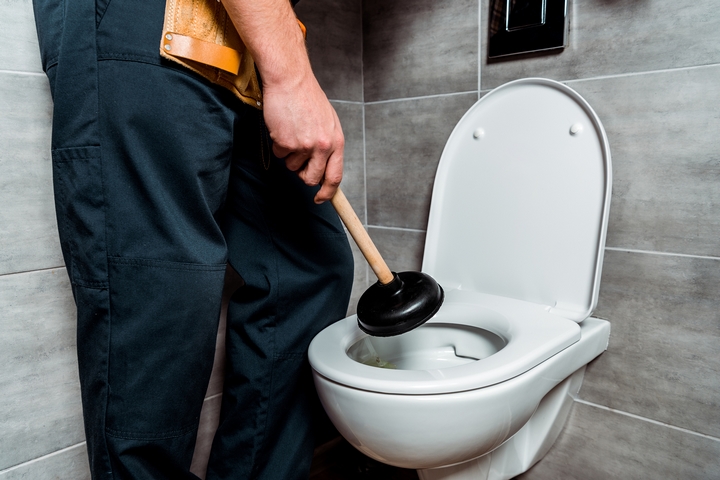 If your hands weren't enough to remove the toilet paper clog, you can move on to trying a plunger. Before you commence, the plunger will need some water in the toilet to function properly. In addition, you'll need to align the plunger to create a tight seal within the toilet. Doing this will maximize your chances of success to unblock the clogged toilet.
The best way to use a plunger is to apply short vigorous strokes, which will break the clog and prevent it from solidifying. Repeat several times and apply more force with the plunger if necessary. Hopefully, you will have success unblocking the clogged toilet with the plunger.
Use a plumber's snake and water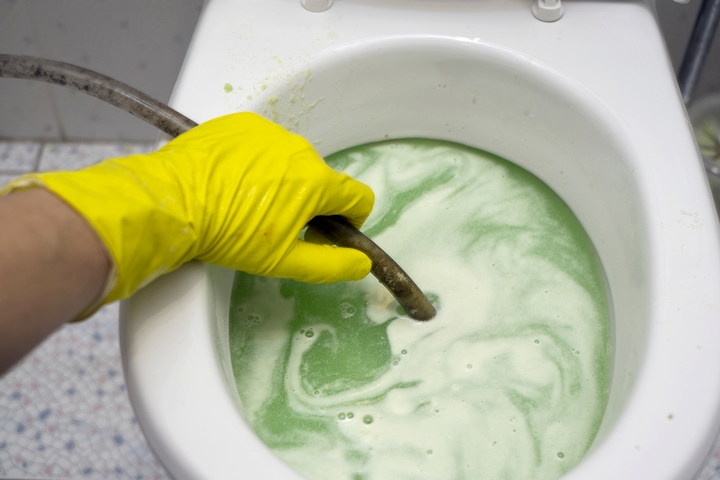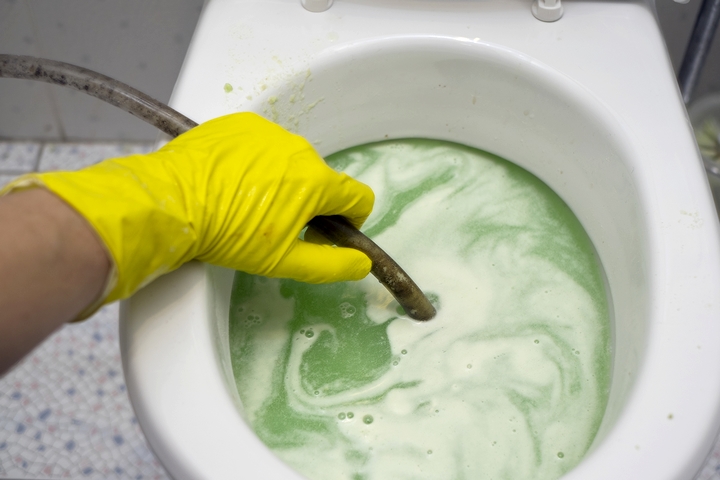 A plumber's snake is a cable instrument with a forked end, often used to puncture stubborn blockages in toilets. Start by poking the clogged toilet with your plumber's snake, until you feel the paper blockage loosening. When it seems like some movement has happened, you can do a test by pouring warm water into the toilet. If the water can drain through the toilet, that means your efforts were successful.
If you don't notice any improvements, keep trying until you puncture a hole in the blockage of toilet paper. Take your time and use caution to break up the clog. When you're too forceful with the plumber's snake, you could inadvertently cause damage to the toilet. It takes a fair amount of patience and dexterity to unblock a toilet with this method, so contact a plumber for help if necessary.
You should only pour water into the toilet after the clog has been punctured. If you pour water too early, you may cause an overflowing toilet. In addition, make sure you use room temperature water. Never use water that is too hot or too cold, since this may damage the porcelain.